Project-Based Learning Activates Curiosity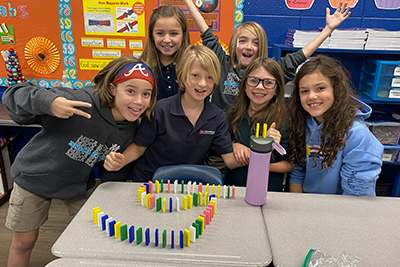 These third graders have been studying a physical science unit on forces and motion. To deepen their understanding, STEM Teacher Mrs. Bateman challenged them to use dominoes to build a chain reaction machine. Through teamwork, they found a creative solution to this problem.
STEM learning is an important part of our academic approach because it encompasses a range of experiences and skills to give students a well-rounded education.
STEM stands for:
Science - to give students an in-depth understanding of the world around them
Technology - to prepare students to work in an environment of high-tech innovations
Engineering - to enhance problem-solving skills and apply knowledge in new projects
Math - to teach students to analyze information, eliminate errors, and make conscious decisions when designing solutions
Project-based learning and problem-solving help learners to form a special mindset. Its core is in flexibility and curiosity, which equips learners to respond to real-world challenges.